Ch.* BARANOVA BIG BOPPER OF ELBEAR, JW, ShCM (* subject to KC conf.)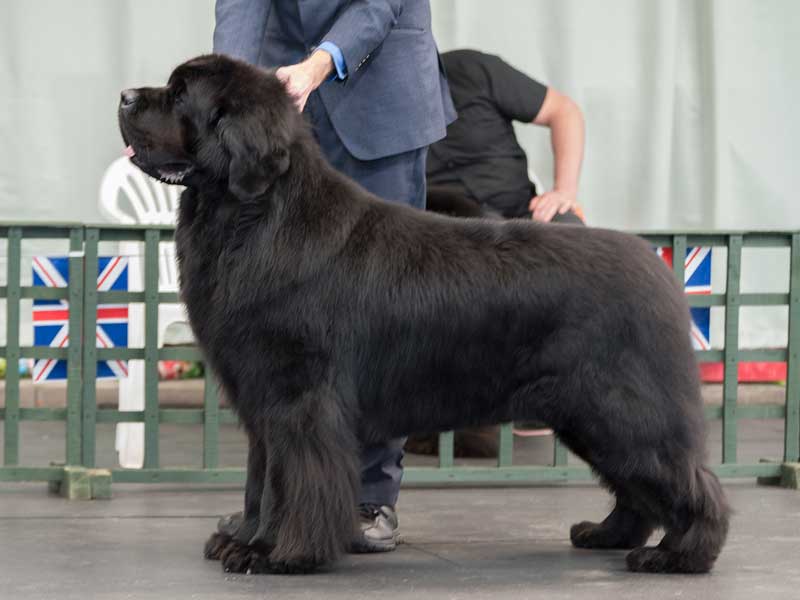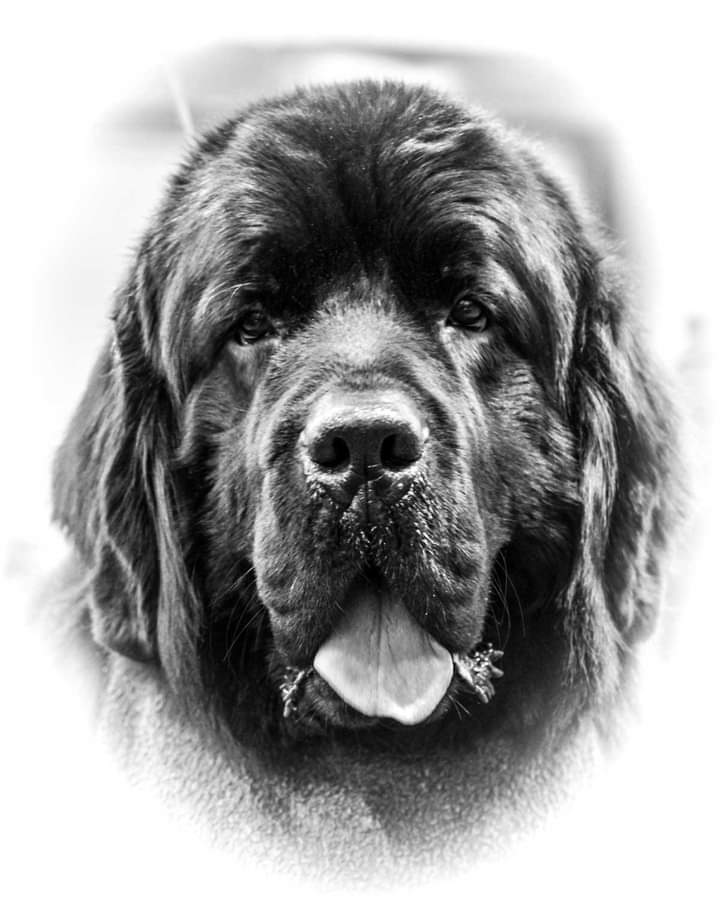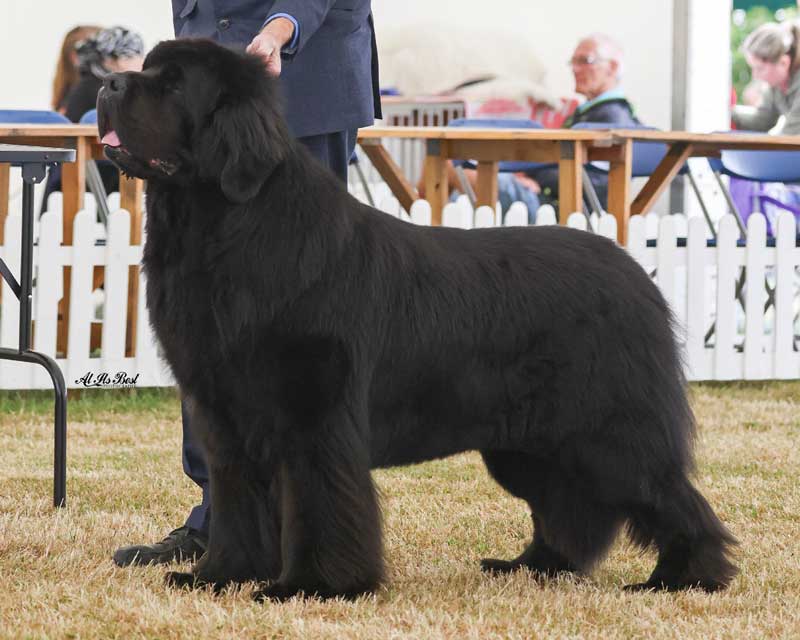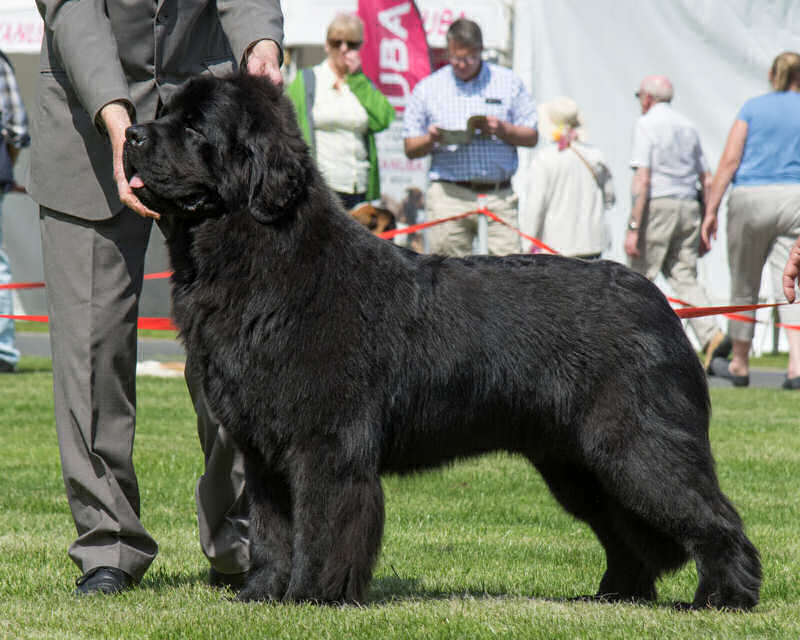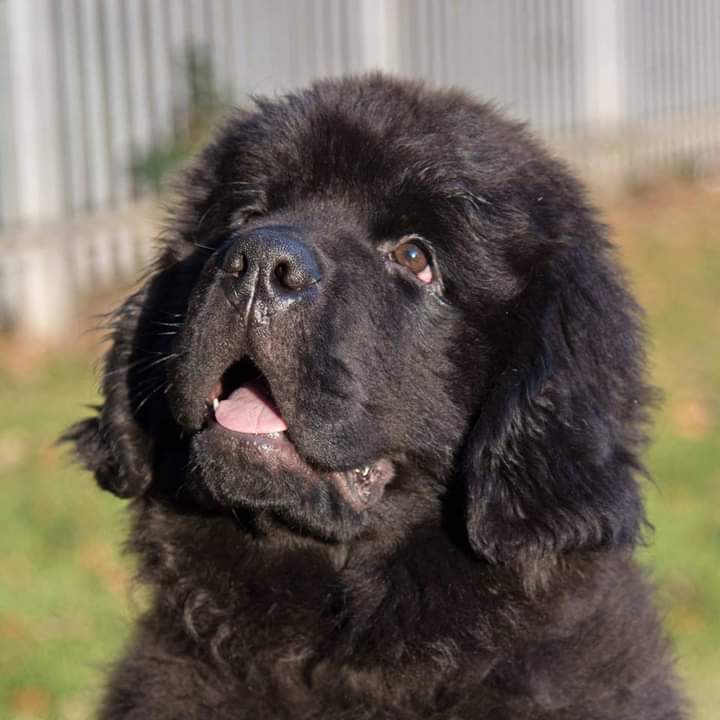 Info
| | |
| --- | --- |
| Pet Name: | Bopper |
| Sex: | Male |
| Colour: | Black |
| Date of Birth: | 25 June 2014 |
Health Info
Hips:
BVA 5 (2/3)
Elbows:
BVA 0 (0/0)
Heart (test date):
Grade 0. Echo doppler Normal (20/10/2015)
Cystinuria:
Hereditary Clear

---

We do our best to verify health data, including checking the following databases;

However, we cannot guarantee the validity or accuracy of all data as some is collected from unverified sources such as breeder web sites - see the disclaimer in the page footer.
---
Owner
John & Freda Austin
---
Breeder
---
Pedigree & Relatives
OFFSPRING
No offspring currently recorded for this dog.
---
NEAR RELATIVES
Only close relatives recorded in our database appear here, there may be others. If you would like to see them included, feel free to email a request and information to Paul@Dodd.co.uk.
Name
Pet Name
Colour
Relationship
Common Parent(s)
DISORANTO FROZEN IN TIME
Black
Half brother
Sire
DISORANTO SECRET LOVE AT MILLTHORPE
Black
Half sister
Sire
Pol. Ch. DISORANTO SHADES OF FAME AT KAŹKO SŁUPSKI
Black
Half sister
Sire
Pol. Ch., Hun. Ch., Slo. Ch. DISORANTO SWEET SEDUCTION
Black
Half sister
Sire
TICKLECOVE'S LETS PRETEND
Black
Half brother
Sire
TICKLECOVE'S PRETEND PLAY
Black
Half sister
Sire
Ch. BARANOVA TOP GALLANT
Black
Litter brother
Both
BARANOVA ALEXANDOR
Black
Half brother
Sire
BARANOVA OLEG OF SHERIDEL
Black [carrying Brown recessive]
Half brother
Sire
Int. Ch., Ger. Ch., Belg. Ch., Lux. Ch. NEW ANGELS MAGIC GIRL
Black
Half sister
Sire
Int. Ch., Lux. Ch., Belg. Ch., Ch. NEW ANGELS MILLION DOLLAR BABY, JW
Black
Half sister
Sire
Ch. NEW ANGELS MYGUY AT MILLTHORPE, JW, ShCM
Black
Half brother
Sire
BARANOVA SEAS THE DAY
Black
Half brother
Dam
BARANOVA WALTZ WITH WAVES
Black
Half sister
Dam
BARANOVA WAVE RIDER
Black
Half brother
Dam
BARANOVA THREE CHEERS
Black [carrying Brown recessive]
Half brother
Dam
YOUR THE ONE FOR SANDBEARS TENDER EBONY
Black
Half sister
Sire
Int. Ch., Multi Ch. CASPER LITTLE BEARS BLACK KORALLE
Black
Half brother
Sire
CATHE LITTLE BEARS BLACK KORALLE
Black
Half sister
Sire
WISH UPON A STAR TENDER EBONY
Black [carrying Brown recessive]
Half sister
Sire
BOATSWAIN'S DIAMOND AIN'T NO SAINT, Slov. & Cro. Jnr. Ch.
Black
Half sister
Sire
---
Show Results
UK CHAMPIONSHIP SHOW RESULTS
Note: Only 1st, 2nd and 3rd places plus CC, Reserve CC, BoB, BPiB and Working Group/Best In Show results are shown. Some BViB and BSpBiB are also shown. Minor placings and stakes classes are not recorded.

| Date | Show | Class or Award | Judge (Affix or info) |
| --- | --- | --- | --- |
| 08 January 2015 | Boston & District Canine Society | First in Minor Puppy | Mr. David J. Butcher (Muscadine) |
| 17 January 2015 | Manchester Dog Show Society | Second in Minor Puppy | Kari Järvinen (from Finland) |
| 06 March 2015 | Crufts | First in Minor Puppy | Mrs. Gill M. Barker (Startrek) |
| 04 April 2015 | Northern Newfoundland Club | Second in Puppy | Mr. Stuart J. Mallard (non-breed specialist - Tuckles) |
| 18 April 2015 | Working & Pastoral Breeds Association of Wales | First in Puppy | Mr. Peter J. C. Radley (non-breed specialist) |
| 18 April 2015 | Working & Pastoral Breeds Association of Wales | Best Puppy in Breed | Mr. Peter J. C. Radley (non-breed specialist) |
| 18 April 2015 | Working & Pastoral Breeds Association of Wales | WINNER of WORKING GROUP PUPPY | Miss. Jean. M. Lanning (non-breed specialist - Clausentum) |
| 18 April 2015 | Working & Pastoral Breeds Association of Wales | RESERVE BEST PUPPY IN SHOW | Miss. Jean. M. Lanning (non-breed specialist - Clausentum) |
| 25 April 2015 | West of England Ladies' Kennel Society | First in Puppy | Mr. Richard C. Kinsey (non-breed specialist - Kitarn) |
| 25 April 2015 | West of England Ladies' Kennel Society | Best Puppy in Breed | Mr. Richard C. Kinsey (non-breed specialist - Kitarn) |
| 07 May 2015 | Birmingham National Dog Show | Second in Puppy | Mrs. Pam Leech (Mileoak) |
| 17 May 2015 | Scottish Kennel Club | First in Puppy | Mr. Stephen W. Hall (non-breed specialist - Shenedene) |
| 17 May 2015 | Scottish Kennel Club | Best Puppy in Breed | Mr. Stephen W. Hall (non-breed specialist - Shenedene) |
| 24 May 2015 | Bath Canine Society | Second in Puppy | Mrs. Maxine Munday (Kubear) |
| 31 May 2015 | Southern Counties Canine Association | First in Puppy | Ms. Delia E. Sarson (Swanpool) |
| 31 May 2015 | Southern Counties Canine Association | Best Puppy in Breed | Ms. Delia E. Sarson (Swanpool) |
| 31 May 2015 | Southern Counties Canine Association | SECOND in WORKING GROUP PUPPY | Mr. John Walton Haddon (non-breed specialist - Ilsham) |
| 04 June 2015 | Three Counties Agricultural Society | First in Puppy | Mr. Patrick Galvin (Merrybear) |
| 04 June 2015 | Three Counties Agricultural Society | Best Puppy in Breed | Mr. Patrick Galvin (Merrybear) |
| 21 June 2015 | Border Union Agricultural Society | Second in Puppy | Mr. R. John Evans (Abbeydore) |
| 28 June 2015 | Blackpool & District Canine Society | First in Junior | Mr. Tan Nagrecha (non-breed specialist - Chandlimore) |
| 03 July 2015 | Windsor Dog Show Society | Second in Junior | Mr. Gordon Cutts (Merrybear) |
| 11 July 2015 | National Working & Pastoral Breeds Society | First in Junior | Mrs. Ana C. Penny (Rishley) |
| 12 July 2015 | East Of England Agricultural Society | First in Junior | Mr. Gary J. Coldwell (Zentaur) |
| 26 July 2015 | Leeds City & District Canine Association | Second in Junior | Mr. Rodney P. Oldham (non-breed specialist - Towmena) |
| 22 August 2015 | Welsh Kennel Club | First in Junior | Mr. Robin A. W. Searle (non-breed specialist - Surlson) |
| 29 August 2015 | Scottish Kennel Club | First in Yearling | Mr. Peter J. Jolley (non-breed specialist - Rubio) |
| 05 September 2015 | City of Birmingham Canine Association | Third in Graduate | Mr. Rony Doedijns (from Holland) |
| 19 September 2015 | Darlington Dog Show Society | Second in Junior | Mr. Barry Carr (Sauvtage) |
| 01 October 2015 | Driffield Agricultural Society | Third in Junior | Mr. William E. Piggott (Portesk) |
| 09 October 2015 | South Wales Kennel Association | Third in Junior | Mrs. Loraine Ratter (Seafar) |
| 25 October 2015 | Midland Counties Canine Society | Second in Junior | Mr. John J. Burrows (Mayoss) |
| 07 January 2016 | Boston & District Canine Society | First in Graduate | Mrs. Catherine (Margaret) Cox (Coxbrook) |
| 16 January 2016 | Manchester Dog Show Society | First in Post Graduate | Mrs. Renee Sporre-Willes (non-breed specialist - Cobby's, Sweden) |
| 12 March 2016 | Crufts | Second in Yearling | Mrs. Jenny Davie (Ceilidh) |
| 02 April 2016 | Northern Newfoundland Club | First in Post Graduate | Mr. Einar Paulsen (Cannon Bears - Denmark) |
| 16 April 2016 | Working & Pastoral Breeds Association of Wales | Third in Post Graduate | Mrs. Sue Lloyd-Denman (Stelamah) |
| 06 May 2016 | Birmingham National Dog Show | Second in Post Graduate | Mr. Christopher M. Drury (breed specialist) |
| 20 May 2016 | Scottish Kennel Club | First in Post Graduate | Mr. J. Mike Sutcliffe (Galygard) |
| 20 May 2016 | Scottish Kennel Club | Reserve CC | Mr. J. Mike Sutcliffe (Galygard) |
| 29 May 2016 | Bath Canine Society | Third in Post Graduate | Mrs. Sue J. Garner (non-breed specialist - Aivlys) |
| 04 June 2016 | Southern Counties Canine Association | First in Post Graduate | Mr. Johan J. Juslin (non-breed specialist - Rivale, Finland) |
| 10 June 2016 | Three Counties Agricultural Society | Second in Post Graduate | Mrs. Frances I. Kaye (non-breed specialist - Danfrebek) |
| 26 June 2016 | Blackpool & District Canine Society | First in Post Graduate | Mr. Howard Parker (Evanpark) |
| 16 July 2016 | National Working & Pastoral Breeds Society | Third in Post Graduate | Mr. T. J. Hedd Richards (Sheridel) |
| 20 August 2016 | Welsh Kennel Club | Second in Limit | Mrs. Cathy Lyall (Scotiabear) |
| 03 September 2016 | City of Birmingham Canine Association | Second in Limit | Mr. Gordon C. Rual (non-breed specialist - Gilcoru) |
| 17 September 2016 | Darlington Dog Show Society | Third in Limit | Mrs. Pam Leech (Mileoak) |
| 29 September 2016 | Driffield Agricultural Society | First in Limit | Mr. K. Robin Newhouse (non-breed specialist - Annecy) |
| 05 November 2016 | Working & Pastoral Breeds Association of Scotland | First in Limit | Mr. Roy E. Meakin (Merchien, France) |
| 05 November 2016 | Working & Pastoral Breeds Association of Scotland | Reserve CC | Mr. Roy E. Meakin (Merchien, France) |
| 21 January 2017 | Manchester Dog Show Society | Second in Limit | Mr. Graham A. Hill (non-breed specialist - Dimland) |
| 15 April 2017 | Working & Pastoral Breeds Association of Wales | First in Limit | Mrs. Jean Lawless (non-breed specialist - Revloch, Ireland) |
| 28 April 2017 | West of England Ladies' Kennel Society | Third in Limit | Mr. Frank Kane (non-breed specialist - Hirontower) |
| 28 May 2017 | Bath Canine Society | First in Limit | Mr. Johan J. Juslin (non-breed specialist - Rivale, Finland) |
| 03 June 2017 | Southern Counties Canine Association | Second in Limit | Mrs. Renee Sporre-Willes (non-breed specialist - Cobby's, Sweden) |
| 10 June 2017 | Three Counties Agricultural Society | First in Limit | Mr. John McKay (breed specialist) |
| 10 June 2017 | Three Counties Agricultural Society | Reserve CC | Mr. John McKay (breed specialist) |
| 18 June 2017 | Border Union Agricultural Society | Second in Limit | Mr. Patrick Galvin (Merrybear) |
| 25 June 2017 | Blackpool & District Canine Society | Second in Limit | Mr. Andrew H. Brace (non-breed specialist - Tragband) |
| 15 July 2017 | National Working & Pastoral Breeds Society | Second in Limit | Mrs. Lucinda Burgess (Bearsted) |
| 22 July 2017 | Leeds City & District Canine Association | Second in Limit | Mrs. Gloria Burrows (Mayoss) |
| 07 August 2017 | Paignton & District Fanciers' Association | First in Limit | Mr. J. R. Walsh Jnr. (non-breed specialist - from Ireland) |
| 07 August 2017 | Paignton & District Fanciers' Association | Reserve CC | Mr. J. R. Walsh Jnr. (non-breed specialist - from Ireland) |
| 19 August 2017 | Welsh Kennel Club | Third in Limit | Mr. John J. Burrows (Mayoss) |
| 26 August 2017 | Scottish Kennel Club | Third in Limit | Mrs. Loraine Ratter (Seafar) |
| 02 September 2017 | City of Birmingham Canine Association | Second in Limit | Mr. R. John Evans (Abbeydore) |
| 16 September 2017 | Darlington Dog Show Society | Second in Limit | Dr. Ronald W. James (non-breed specialist - Jasmorne) |
| 08 October 2017 | South Wales Kennel Association | Second in Limit | Mr. Stephen W. Hall (non-breed specialist - Shenedene) |
| 21 October 2017 | The Newfoundland Club | Second in Limit | Mr. Frode Jevne (non-breed specialist - Norway) |
| 20 January 2018 | Manchester Dog Show Society | Second in Limit | Miss Susan Wardle (non-breed specialist) |
| 21 April 2018 | Working & Pastoral Breeds Association of Wales | First in Limit | Mr. Barrie M. Croft (non-breed specialist - Malcro) |
| 28 April 2018 | West of England Ladies' Kennel Society | Second in Limit | Mrs. Catherine (Margaret) Cox (Coxbrook) |
| 13 May 2018 | Birmingham National Dog Show | First in Limit | Mr. K. Robin Newhouse (non-breed specialist - Annecy) |
| 02 June 2018 | Southern Counties Canine Association | First in Open | Dr. Göran Bodegård (from Sweden) |
| 18 August 2018 | Welsh Kennel Club | Second in Open | Miss Kirstie L. Forster (Megalmar) |
| 15 December 2018 | Ladies' Kennel Association | Third in Open | Mr. J. Mike Sutcliffe (Galygard) |
| 06 April 2019 | Northern Newfoundland Club | Third in Open | Mrs. Lucinda Burgess (Bearsted) |
| 20 April 2019 | Working & Pastoral Breeds Association of Wales | Second in Open | Mr. K. Sigurd Wilberg (non-breed specialist - Kanix) |
| 20 April 2019 | Working & Pastoral Breeds Association of Wales | Reserve CC | Mr. K. Sigurd Wilberg (non-breed specialist - Kanix) |
| 18 May 2019 | Scottish Kennel Club | Second in Open | Mr. Christopher J. Quantrill (non-breed specialist - Seejayque/Licassa) |
| 18 May 2019 | Scottish Kennel Club | Reserve CC | Mr. Christopher J. Quantrill (non-breed specialist - Seejayque/Licassa) |
| 13 July 2019 | National Working & Pastoral Breeds Society | Third in Open | Mr. John J. Burrows (Mayoss) |
| 26 July 2019 | Leeds City & District Canine Association | First in Open | Mr. John McKay (breed specialist) |
| 26 July 2019 | Leeds City & District Canine Association | Reserve CC | Mr. John McKay (breed specialist) |
| 05 August 2019 | Paignton & District Fanciers' Association | Second in Open | Mr. Stephen W. Hall (non-breed specialist - Shenedene) |
| 17 August 2019 | Welsh Kennel Club | Third in Open | Ms. A. T. Elina Haapaniemi (non-breed specialist - from Finland) |
| 09 January 2020 | Boston & District Canine Society | Third in Open | Ms. Allyson Y. King (non-breed specialist - Allyking) |
| 22 August 2021 | Blackpool & District Canine Society | First in Veteran | Mr. John Ritchie (non-breed specialist - Hollibell) |
| 22 August 2021 | Blackpool & District Canine Society | Best Veteran in Breed | Mr. John Ritchie (non-breed specialist - Hollibell) |
| 22 August 2021 | Blackpool & District Canine Society | SECOND in WORKING GROUP VETERAN | Mr. John Ritchie (non-breed specialist - Hollibell) |
| 17 September 2021 | Darlington Dog Show Society | First in Veteran | Mr. Graham A. Hill (non-breed specialist - Dimland) |
| 17 September 2021 | Darlington Dog Show Society | Best Veteran in Breed | Mr. Graham A. Hill (non-breed specialist - Dimland) |
| 17 September 2021 | Darlington Dog Show Society | Reserve CC | Mr. Graham A. Hill (non-breed specialist - Dimland) |
| 17 September 2021 | Darlington Dog Show Society | WINNER of WORKING GROUP VETERAN | Mrs. E. Anne MacDonald (non-breed specialist - Mabrooka) |
| 30 September 2021 | Scottish Kennel Club | First in Veteran | Mrs. Juliet Leicester-Hope (Wanitopa) |
| 30 September 2021 | Scottish Kennel Club | Best Veteran in Breed | Mrs. Juliet Leicester-Hope (Wanitopa) |
| 30 September 2021 | Scottish Kennel Club | Reserve CC | Mrs. Juliet Leicester-Hope (Wanitopa) |
| 30 September 2021 | Scottish Kennel Club | First in Veteran | Mr. Barrie M. Croft (non-breed specialist - Malcro) |
| 30 September 2021 | Scottish Kennel Club | Best Veteran in Breed | Mr. Barrie M. Croft (non-breed specialist - Malcro) |
| 30 September 2021 | Scottish Kennel Club | CC | Mr. Barrie M. Croft (non-breed specialist - Malcro) |
| 05 October 2021 | Border Union Agricultural Society | First in Veteran | Mr. John McKay (breed specialist) |
| 05 October 2021 | Border Union Agricultural Society | Best Veteran in Breed | Mr. John McKay (breed specialist) |
| 05 October 2021 | Border Union Agricultural Society | WINNER of WORKING GROUP VETERAN | Mrs. Margaret Wildman (non-breed specialist - Wildax) |
| 24 October 2021 | Belfast Dog Show Society | Second in Open | Mr. Simon Luxmoore (non-breed specialist - Hushwing/Zima) |
| 13 November 2021 | Northern Newfoundland Club | First in Veteran | Mrs. Kirsteen J. Farrar (Darkpeak) |
| 13 November 2021 | Northern Newfoundland Club | Best Veteran in Breed | Mrs. Kirsteen J. Farrar (Darkpeak) |
| 04 December 2021 | Northern Newfoundland Club | First in Veteran | Mr. Stephen Hourihan (Fastnetrock - Ireland) |
| 04 December 2021 | Northern Newfoundland Club | Best Veteran in Breed | Mr. Stephen Hourihan (Fastnetrock - Ireland) |
| 26 June 2022 | Blackpool & District Canine Society | First in Veteran | Mr. K. Sigurd Wilberg (non-breed specialist - Kanix) |
| 26 June 2022 | Blackpool & District Canine Society | Best Veteran in Breed | Mr. K. Sigurd Wilberg (non-breed specialist - Kanix) |
| 26 June 2022 | Blackpool & District Canine Society | Reserve CC | Mr. K. Sigurd Wilberg (non-breed specialist - Kanix) |
| 26 June 2022 | Blackpool & District Canine Society | FOURTH in WORKING GROUP VETERAN | Mr. Barrie M. Croft (non-breed specialist - Malcro) |
| 22 July 2022 | Leeds City & District Canine Association | First in Veteran | Mrs. Jill Peak (non-breed specialist - Bayard) |
| 22 July 2022 | Leeds City & District Canine Association | Best Veteran in Breed | Mrs. Jill Peak (non-breed specialist - Bayard) |
| 19 August 2022 | Welsh Kennel Club | First in Veteran | Mr. K. Robin Newhouse (non-breed specialist - Annecy) |
| 19 August 2022 | Welsh Kennel Club | Best Veteran in Breed | Mr. K. Robin Newhouse (non-breed specialist - Annecy) |
| 19 August 2022 | Welsh Kennel Club | CC | Mr. K. Robin Newhouse (non-breed specialist - Annecy) |
| 19 August 2022 | Welsh Kennel Club | Best of Breed | Mr. K. Robin Newhouse (non-breed specialist - Annecy) |
| 27 August 2022 | Driffield Agricultural Society | First in Veteran | Mr. Barry Blunden (non-breed specialist - Licassa) |
| 27 August 2022 | Driffield Agricultural Society | Best Veteran in Breed | Mr. Barry Blunden (non-breed specialist - Licassa) |
| 27 August 2022 | Driffield Agricultural Society | CC | Mr. Barry Blunden (non-breed specialist - Licassa) |
| 01 September 2022 | City of Birmingham Canine Association | First in Veteran | Mrs. Karen V. Gilliland (non-breed specialist - Castleavery) |
| 01 September 2022 | City of Birmingham Canine Association | Best Veteran in Breed | Mrs. Karen V. Gilliland (non-breed specialist - Castleavery) |
| 01 September 2022 | City of Birmingham Canine Association | THIRD in WORKING GROUP VETERAN | Mr. Tom Isherwood (non-breed specialist) |
| 10 September 2022 | Richmond Dog Show Society | First in Veteran | Ms. Suzanne C. Archer (Tallisbay) |
| 10 September 2022 | Richmond Dog Show Society | Best Veteran in Breed | Ms. Suzanne C. Archer (Tallisbay) |
| 10 September 2022 | Richmond Dog Show Society | Reserve CC | Ms. Suzanne C. Archer (Tallisbay) |
| 17 September 2022 | Darlington Dog Show Society | First in Veteran | Mrs. Sylvia J. Monaghan (Nostradamus) |
| 17 September 2022 | Darlington Dog Show Society | Best Veteran in Breed | Mrs. Sylvia J. Monaghan (Nostradamus) |
| 02 October 2022 | Scottish Kennel Club | First in Veteran | Mr. Ben Reynolds-Frost (non-breed specialist) |
| 02 October 2022 | Scottish Kennel Club | Best Veteran in Breed | Mr. Ben Reynolds-Frost (non-breed specialist) |
| 02 October 2022 | Scottish Kennel Club | CC | Mr. Ben Reynolds-Frost (non-breed specialist) |
| 08 October 2022 | South Wales Kennel Association | First in Veteran | Mrs. Lisbet Utke Ramsing (from Denmark) |
| 22 October 2022 | The Newfoundland Club | First in Veteran | Mr. Gary J. Coldwell (Zentaur) |
| 22 October 2022 | The Newfoundland Club | Best Veteran in Breed | Mr. Gary J. Coldwell (Zentaur) |
| 29 October 2022 | Midland Counties Canine Society | First in Veteran | Mrs. Lucinda Burgess (Bearsted) |
| 29 October 2022 | Midland Counties Canine Society | Best Veteran in Breed | Mrs. Lucinda Burgess (Bearsted) |
| 27 November 2022 | Southern Newfoundland Club | Second in Veteran | Mr. Jens Utke Ramsing (non-breed specialist- Sennettas, Denmark) |
| 10 March 2023 | Crufts | First in Veteran | Mr. John J. Burrows (Mayoss) |
| 10 March 2023 | Crufts | Best Veteran in Breed | Mr. John J. Burrows (Mayoss) |
| 01 April 2023 | Northern Newfoundland Club | Third in Veteran | Mr. Attila Soós (Midnight Lady's - Hungary) |
UK BREED CLUB OPEN SHOW RESULTS