Ch. KING OF HELLULAND LOVE ACTUALLY AT DAREBEAR, JW, ShCM, ShCEx, OSW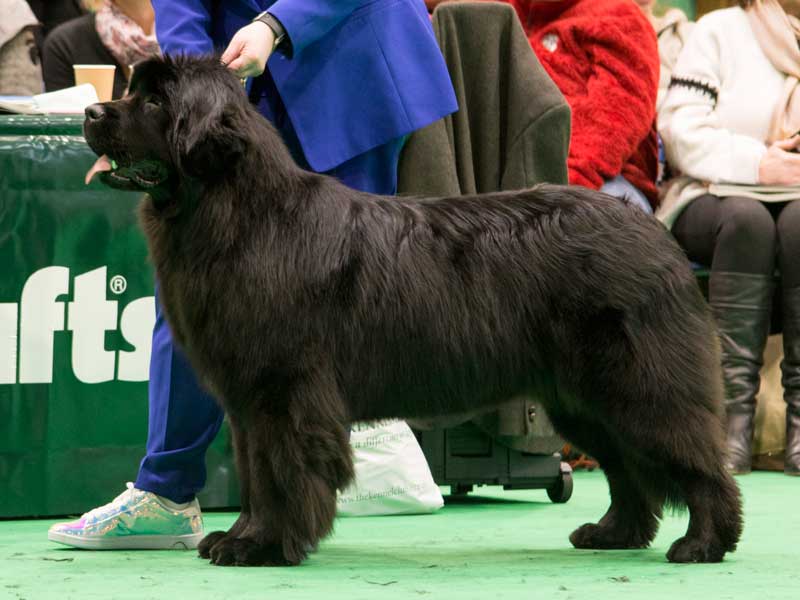 Info
| | |
| --- | --- |
| Pet Name: | Blue |
| Sex: | Female |
| Colour: | Black |
| Date of Birth: | 6 March 2017 |
Health Info
Hips:
BVA 7 (4/3)
Elbows:
BVA 1
Heart (test date):
Grade 0. Echo doppler Normal 1.64m/sec (31/10/2018)
Cystinuria:

---

We do our best to verify health data, including checking the following databases;

However, we cannot guarantee the validity or accuracy of all data as some is collected from unverified sources such as breeder web sites - see the disclaimer in the page footer.
---
Owner
Steve & Abbi Adair
---
Breeder
---
Pedigree & Relatives
OFFSPRING
No offspring currently recorded for this bitch.
---
NEAR RELATIVES
Only close relatives recorded in our database appear here, there may be others. If you would like to see them included, feel free to email a request and information to Paul@Dodd.co.uk.
Name
Pet Name
Colour
Relationship
Common Parent(s)
KING OF HELLULAND X TREME XENA
Black
Half sister
Dam
Ch. KING OF HELLULAND MATERIAL GIRL AT DAWSTENBEARS
Black
Half sister
Sire
Ir. Ch. KING OF HELLULAND MY QUEEN AT TITANBEARS, JW, ShCM, ShCEx, OSW
Black
Half sister
Sire
KING OF HELLULAND LATEST EDITION
Black
Litter brother
Both
KING OF HELLULAND ZOOM TO THE STARS WITH FAYREBEARS
Black
Half sister
Sire
Slov. Ch., Chz. Ch. KING OF HELLULAND YELLOW DIAMOND
Black
Half sister
Sire
Slov. Ch., Chz. Ch. KING OF HELLULAND YELLOW ROSE
Black
Half sister
Sire
Slov. Ch. KING OF HELLULAND YOU ARE THE BEST
Black
Half brother
Sire
VANILLA SKY FOR SHADOW'S ETERNITY
Black
Half sister
Sire
Spn. Ch. VERA LIZH FOR SHADOWS'S ETERNITY
Black
Half sister
Sire
Aus. Ch. VIENNA CALLING FOR SHADOW'S ETERNITY
Black
Half brother
Sire
ANGEL OR DEVIL EMPIRE OF BLACKBEARS FROM VIVALDIBEARS
Black
Half sister
Sire
Rus. Ch. DARK PRIDE VUITTON
Black
Half brother
Sire
KING OF HELLULAND TOO MUCH LOVE
Black
Half sister
Sire
Belr. Ch., Lith. Ch., Ukr. Ch. LIKE FATHER LIKE SON MIDNIGHT BEAR
Black with white chest marking
Half brother
Sire
URSINUS VELUTUS PALOMA NERA
Black
Half sister
Sire
Fr. Ch. URSINUS VELUTUS PULP FICTION
Black with white chest marking
Half brother
Sire
---
Show Results
UK CHAMPIONSHIP SHOW RESULTS
UK BREED CLUB OPEN SHOW RESULTS