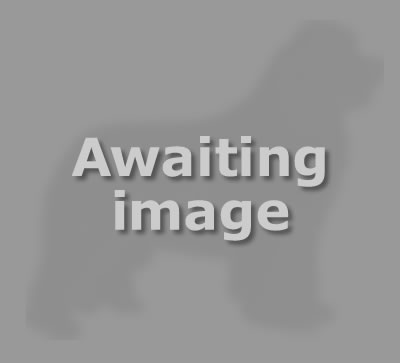 Info
| | |
| --- | --- |
| Pet Name: | Frankie |
| Sex: | Male |
| Colour: | Black [carrying Brown recessive] |
| Date of Birth: | 26 September 1998 |
Health Info
Hips:
BVA 13 (6/7)
Elbows:
Heart (test date):
Grade 1. Echo doppler Abnormal (05/11/2001). SAS diagnosed
Cystinuria:

---

We do our best to verify health data, including checking the following databases;

However, we cannot guarantee the validity or accuracy of all data as some is collected from unverified sources such as breeder web sites - see the disclaimer in the page footer.
---
Breeder
---
Pedigree & Relatives
OFFSPRING
No offspring currently recorded for this dog.
---
NEAR RELATIVES
Only close relatives recorded in our database appear here, there may be others. If you would like to see them included, feel free to email a request and information to Paul@Dodd.co.uk.
Name
Pet Name
Colour
Relationship
Common Parent(s)
MERRYBEAR GUCCI FOR BEAUBEAR
Black
Half sister
Sire
MERRYBEAR HERE WE GO AGAIN FOR TAWISCARA
Black
Half sister
Sire
CALVADOS MOONFLEETBEAR
Black
Half sister
Sire
CALVADOS ROBINSON CRUSOE
Black
Half brother
Sire
CALVADOS SIR SMASHUM UPPE
Black
Half brother
Sire
VODAHOND RUBY'S ONE N ONLY
Black [carrying Brown recessive]
Half sister
Sire
Ch. NEWFSWAIN FOR YOUR EYES ONLY AT MERRYBEAR
Black
Half sister
Sire
TAWISCARA BRUBAKER
Black
Half brother
Sire
COOCHICOO ANTONIO
Black
Half brother
Sire
COOCHICOO CLAUDIA, ShCM
Black
Half sister
Sire
COOCHICOO DONATELLA
Black [carrying Brown recessive]
Half sister
Sire
Ir. Ch., Ch. MERRYBEAR ENRIQUE
Black
Half brother
Sire
MERRYBEAR ESTE LAUDER FOR KODIAK
Black
Half sister
Sire
Ch. SASQUATCH ELEGANT ENDEAVOR
Black
Half sister
Sire
SASQUATCH HUDSONS HALF MOON
Black
Half brother
Sire
SEAMBLE POETRY IN MOTION
Black
Half sister
Sire
SEAMBLE SKYS THE LIMIT
Black
Half sister
Sire
AQUACANIS SAMUEL PEPYS OF KRYSTALCOVE
Black
Half brother
Sire
WILDERLAND FIELD OF DREAMS
Black [carrying Brown recessive]
Half sister
Sire
LISKARN DESTINED TO BE ELITE
Black [carrying Brown recessive]
Half brother
Sire
TREMARCOL FERNANDO
Black
Half brother
Sire
TREMARCOL FIRST LADY
Black
Half sister
Sire
HALLMOSA DYNAMITE
Black [carrying Brown recessive]
Half sister
Sire
MILJAZ VICTORIA FOR MOLLYNEWF
Black
Half sister
Sire
BEAROMEO LADY OF ELLY BAY
Black
Half sister
Sire
AQUACANIS CHELSEA IN SPAIN
Black
Half sister
Sire
AQUACANIS FREYA STARKE OF KRYSTALCOVE
Black
Half sister
Sire
Ch. SWANPOOL FRANKIE DETTORI, JW, ShCM
Black
Half brother
Sire
SWANPOOL ROCKY MARCIANO
Black [carrying Brown recessive]
Half brother
Sire
EVANPARK ALL MINE
Black
Half sister
Sire
LUDZSKA BELLA MIA
Black
Half sister
Sire
LUDZSKA BELLISIMO AT BOSIGHEY
Black
Half sister
Sire
MERRYBEAR ZANTHIA AT WILDERLAND
Black
Half sister
Sire
Ch. SASQUATCH PROUDLY PRESENTS
Black
Half sister
Sire
SASQUATCH SEIZE THE MOMENT
White & Black (Landseer)
Half sister
Sire
POWERHOUSE AFRICA
Black
Half sister
Sire
POWERHOUSE CHARISMA
Black
Half sister
Sire
NEWPHREY BEST BUDDY
Black
Half brother
Sire
SMITHERS SWEET SENSATION
Black
Half sister
Sire
FHIRABHATA OPHELIA
Black
Half sister
Sire
SCOTIABEAR THUNDERBALL AT RATHMIL
Black
Half brother
Sire
Ch. MERRYBEAR UNSONG HERO
Black
Half brother
Sire
Irish Ch., Ch. WATERVALLEY MARVIN GAYE OF MERRYBEAR
Black
Half brother
Sire
WATERVALLEY PEGGY DAVIES BY EVANPARK
Black with small white chest marking
Half sister
Sire
WATERVALLEY SAGGER MAKER OF SEAFAR
Black [carrying Brown recessive]
Half brother
Sire
WATERVALLEY THE CASTER
Black
Half brother
Sire
STELAMAH STAR CHOICE
Black
Half sister
Sire
STELAMAH THE FILM STAR
Black
Half sister
Sire
STELAMAH WISH UPON A STAR
Black
Half sister
Sire
GYPSYSPRINGS FRANCESCO, ShCM
Black [carrying Brown recessive]
Half brother
Sire
SASQUATCH FOGGY HUMBER
Black
Half brother
Sire
EVANPARK SOPHIE
Black [carring Brown recessive]
Litter sister
Both
Ch. MAYOSS BOOKER
Black
Half brother
Sire
MAYOSS FRANCESCA
Black
Half sister
Sire
MERRYBEAR RENATA AT MAYOSS
Black
Half sister
Sire
Ch. MERRYBEAR RICARDO
Black
Half brother
Sire
MERRYBEAR RIGSBY AT SPECIALBEAR, ShCM
Black
Half brother
Sire
Ch. POWERHOUSE SENNA
Black
Half brother
Sire
NEWPHREY ALWAYS AND FOREVER OF ELBEAR
Black
Half sister
Sire
NEWPHREY APPLE OF MY EYE WITH LUDZSKA
Black
Half sister
Sire
MERRYBEAR Q'TOP
Black
Half brother
Sire
MERRYBEAR QUANTUM CZAR
Black
Half brother
Sire
EVANPARK GOLDIE HAWN AT HALLMOSA
Brown
Half sister
Dam
EVANPARK MARIANNE AT HALLMOSA
Brown
Half sister
Dam
EVANPARK MARIELLA
Brown
Half sister
Dam
EVANPARK MR CANTONA OF SIMPLYBLACK
Brown
Half brother
Dam
HONEYBEARS MURPHY
Black
Half brother
Sire
Ch. TREMARCOL DEFENDER
Black
Half brother
Sire
TREMARCOL DOLLY DAYDREAM
Black
Half sister
Sire
Ch. SEASOAR PRIMA DONNA OF MERRYBEAR
Black
Half sister
Sire
EVANPARK ISABELLA FOR TYNEBEARS
Black [carrying Brown recessive]
Half sister
Dam
Ch. EVANPARK AL BEAR, JW
Black
Half brother
Dam
EVANPARK DANI BEAR
Black
Half sister
Dam
Ch. EVANPARK DOLLY VARDON AT WATERVALLEY
Black
Half sister
Dam
Ch. EVANPARK GREAT BEAR
Black
Half brother
Dam
---
Show Results
UK CHAMPIONSHIP SHOW RESULTS
(Crufts from 2000 and all Championship shows for Newfoundlands from July 2005 to date)
Note: Only 1st, 2nd and 3rd places plus CC, Reserve CC, BoB, BPiB and Working Group/Best In Show results are shown. Some BViB and BSpBiB are also shown. Minor placings and stakes classes are not recorded.

| Date | Show | Class or Award | Judge (Affix or info) |
| --- | --- | --- | --- |
| 11 March 2000 | Crufts | First in Special Yearling | Mr. John Colgan (Aquacanis) |
UK BREED CLUB OPEN SHOW RESULTS